The definition of Digital Forensics — the science of extracting electronic information, both visible and invisible, from electronic devices.  Some of these include computers, laptops, phones, tablets, surveillance cameras, servers, etc. With the ubiquitous nature of electronic devices both in the workplace and at home, it's little wonder why so much of today's "evidence" is found on them.
Digital Forensics surrounds us in unprecedented ways.  As such it is becoming harder and harder for our digital forensics investigators to track down potential wrongdoings through traditional investigative means.  Digital evidence, including e-mail, activity logs, correspondence, user documents, internet activity and other electronic files are becoming increasingly crucial in internal investigations, civil matters and criminal cases, even when the data has been deleted or an attempt has been made at deleting and/or covering up the evidence.
The digital forensics investigators at Vestige are able to successfully analyze all electronic evidence, recovering data even if it has been deleted. Our digital forensics experts and investigators know and understand the artifacts and trace evidence that exists on electronic devices and how those can be used in both computer forensics court cases and non-litigation-related investigations. Look to Vestige digital investigators for forensic examination of digital devices.
Vestige Strengths
Our Electronic Evidence Experts provide the assurance of handling not only the technical details, but also the legal aspects of cases. Clients choose Vestige for their digital and computer forensic investigations because we offer:
Unparalleled Responsiveness – we understand the legal environment and the pressures our clients are under to get quick results
Unmatched Technical Investigative Expertise that is injected into every matter we work ensuring that no stone goes unturned. At the end of the computer forensic investigation you can be assured that the answers we provide are the right answers
Unbiased, Neutral Expertise to help you understand the Good, the Bad and the Ugly so that your team can make well-informed decisions
Ability to Convey Complex Technical Information in an easy-to-understand and use fashion
Key Facts About Vestige
Deep Knowledge of Digital Forensics with extensive Investigative Experience
Authentication & Admissibility of Digital Evidence
Responsive to the special needs of:
– Attorneys & Their Clients
– Financial Professionals – Accountants & Auditors
– Insurance
– IT
– HR
– Channel Partners
DIGITAL INVESTIGATOR SERVICES:
 Acquire & Preserve Data in a forensically-sound manner from all Digital Systems & Media Types (see list below).

Extract & Analyze all types of data including:

CONTENT, such as:

User documents (Word, Excel, PDFs)
Correspondence (e-mail, instant messages/texts)
Web history, including searches conducted
Printed documents, faxed documents
Business records
Databases
Deleted data

ARTIFACTS, such as:

Software installed/uninstalled
Hardware attached/removed
Evidence of file transfers
CD/DVD burning
Network connections (including WiFi, Cellular, etc.)
Remote access activity
Evidence of hack-in
Disturbance in the force
Deletion activity
Wiping software
CONTACT VESTIGE for Expert Digital Forensic Services.
Representing
Vestige Serves as a Neutral Expert to Either Side. Vestige works with many of the top law firms including international, national and regional teams offering forensic analysis for court purposes or internal digital evidence investigations. Our clients represent both plaintiffs and defendants. We are members of a number of local, regional, national and Specialty Bar Associations. In matters where the court is looking for expeditious and efficient process to get to the relevant facts, we are appointed to serve as Neutral Experts. We also work extensively with Financial, HR, Insurance, IT and Law Enforcement professionals.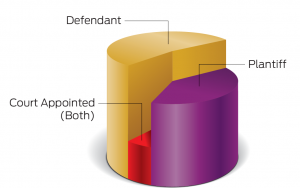 Case Types
System and Media Types
Methodologies
Vestige exceeds Industry Standard methodologies and protocols established by a number of Professional Associations specific to Digital / Computer Forensics. As an organization comprised of forensically-trained trial attorneys and forensically-trained IT professionals, Vestige derives its protocols from applicable case law, best practices and standards promulgated by our industry.
Preservation of Data
Vestige offers several convenient choices as to how you want to preserve digital device data:
On-Site – Vestige comes to your designated location; or
Remote – Vestige ships a Remote Kit and works with a custodian to preserve, or
an Online Remote Data Collection that is internet connected with a reliable, secure Wi-Fi; or
In-Lab – send the device to Vestige's Digital Forensics Lab
Analysis & Testing
A digital forensics investigator from Vestige will use an arsenal of over 250 tools to properly analyze the evidence and uncover electronic "footprints" or artifacts that are left on electronic media. Testing of the results of our analysis is tantamount to our methodologies and success. As we analyze the evidence, our hypotheses surrounding the findings are tested using an environment as close to or the same as the source environment–this provides the truest results and adds strength to our findings. We are able to gain remarkable insight within digital devices because we perform extensive testing before reporting results. Proper testing assures accurate, air-tight, and legally defensible opinions.
Reporting
While every matter does not go to court, from the onset Vestige prepares any relevant, uncovered digital evidence for admissibility to court, should it come to that.  We are known for our exceptional Reporting. We follow the evidence and offer easy to understand reports in regard to our findings. Vestige conveys results orally or prepares written reports. Written formats include: Memo, Report of Findings, or an Export Report.
Testimony
As Neutral Experts who can serve either side, we provide unbiased expertise. Vestige's digital forensic investigators have testified in both state and federal cases numerous times. While only a small percentage of cases ever require expert testimony, Vestige is well prepared to provide opinions via affidavit, testimony at deposition, hearing testimony and trial testimony.
The use of Digital and Computer Forensic Investigation and Consultants is far-reaching. Whether the need is for an internal investigation to discover digital fraud case types or any number of specific case types where either civil litigation or criminal proceedings are eminent, there's a good possibility that a digital forensics expert can assist. Vestige conducts hundreds of investigations each year and as such we have built up a high level of expertise in many applicable types.
CONTACT US today to talk to a digital forensics investigator so we can discuss how Vestige can assist you with a forensic examination of digital devices for evidence.