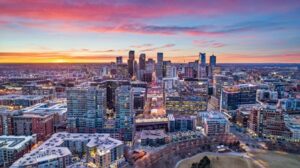 Cybersecurity in the Greater Denver, Colorado Area
Vestige Digital Investigations are cybersecurity experts. We handle both proactive and reactive cybersecurity services for the greater Denver area and beyond. Organization's benefit from our expertise because we thoroughly evaluate the Actual Threat Environment™ – the entire scope of risk and it's comprehensive complexity. We have been in the cybersecurity consulting business for more than 20 years and have a deep knowledge across multiple frameworks. Learn more about our cybersecurity company in Denver.
Vestige Cybersecurity Services:
PROACTIVE SERVICES
Proactive Services are planned, actionable, expert solutions to prevent incidents and breaches. Vestige focuses on a multi-layered approach to help keep your organization fully protected. Our proactive cybersecurity services include:
Assessments
Assessing your digital environment is the critical first-step to a proactive cyber defense strategy. Vestige performs a wide variety to locate security gaps and remedy's this by implementing new, more effective controls. We offer several types of Assessments:
Cybersecurity Readiness Assessments
Department of Defense Cybersecurity Maturity Model Certification (CMMC) Pre-Assessments, Remediation and Guidance
Vulnerability Scanning
External I.T. Penetration Testing – Black Box, White Box, and Hybrid options are available
Compliance Audits – PCI, HIPAA, GLBA, SOX, FERPA, SSAE16 / SOC Reports
I.T. General Control Audits

Logical Security
Physical Security
Development
Due Diligence for Mergers & Acquistions (to check 'cyberhealth' of a company before sealing the deal)
Change Management
Environmental Controls
Overall Management
BreachReady℠
Companies often lose valuable time after a breach by not having a cybersecurity company already in place. It's easier to solve a problem when you already have a contract in place and a service on speed-dial — that's BreachReady. This retainer agreement allows Vestige to learn about your I.T. environment up-front and regularly monitors to validate it. So if or when there is a breach, Vestige is contracted and ready to jump right in to solve any data breach issues that arise.
Cybersecurity Awareness Training
Most cybersecurity incidents are caused directly or indirectly by end users (staff). Vestige offers this essential training so your users can recognize the tactics attackers are using to significantly reduce your company's risk of a cyber compromise or breach.
Virtual CISO Services
This is a flexible and affordable alternative to hiring an internal Chief Information Security Officer (CISO) to make and implement the high level, strategic information security decisions that are crucial to every company. This service allows Vestige to serve as your CISO remotely.
Hunt Team
With Hunt Team, Vestige's cyber investigators continuously search through your organization's network looking for active indicators, markers and red flags that attackers leave behind when trying to breach your organization's system. The Hunt Team then stops
REACTIVE SERVICES
Reactive Services are swift, leading edge response to significantly mitigate damage after a cybersecurity incident or breach. When an organization faces a cybersecurity threat, time is of the essence for identifying malicious activity, how the incident occurred, removing the incident and taking all the required follow-up actions. Getting the organization back to normal operation is always the primary concern, but we also take additional security measures and preserve evidence that other companies often overlook. Our reactive cybersecurity services include:
Data Breach / Incident Response – Vestige offers leading edge experience at being parachuted in to quickly assess, stop and remedy the damage after an incident or data breach.
Malware Analysis – we reverse engineer malware to determine the payload impact on your IT environment.
Root Cause Analysis – utilization of proven approach, tools and techniques to systematically process your data breach and accurately identify the cause of the incident.
Ctr-Alt-Del IT Reboot – Information Technology (IT) personnel transition service. Includes quiet and effective transitional control or your digital environment should IT staff in critical positions leave unexpectedly, pass away or are being let go. Vestige provides a smooth, temporary takeover with minimal disruption to your organization.
When it comes to cybersecurity consulting services, trust the Experts at Vestige. Contact our Colorado office today by calling (303) 872-9231 or click the contact button below to email us.
Vestige serves these Colorado cities and surrounding areas: Denver, Englewood, Aurora, Colorado Springs, Aspen, Durango, Steamboat Springs, Fort Collins, Grand Junction, Lakewood, Thornton, Arvada, Westminster, Pueblo, Greeley, Littleton, Boulder, Centennial, Highlands Ranch, Longmont,Loveland, Castle Rock, Broomfield, Grand Junction, Commerce City, Parker Birghton, Security-Sidefield, Northglenn, Windsor, Dakota Ridge, Ken Caryl, Pueblo West, Wheat Ridge, Erie, Lafayette, Goldon, Montrose, Clifton, Cimarron Hills, Sherrelwood, Johnstown, Fort Carson, Firestone, Greenwood Village, Welby, Frederick, Black Forest, Lone Tree, Federal Heights, Fruita, Sterling, Superior, Berkley, Wellington, Fort Morgan, Cherry Creek, The Pinery, Edwards, Berthoud, Monument, Rifle, Glenwood Springs, Alamose, Woodmoor, Fairmount, Gunbarrel, Breckenridge.