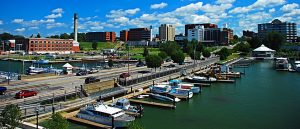 Digital Forensics in Erie, Pennsylvania
Vestige Digital Investigations specializes in Computer Forensics, the process of extracting electronic information, visible and invisible, from any digital devices. This electronic information, when procured properly by digital forensic professionals at Vestige, can be utilized as Electronic Evidence to help parties in disputes, legal or otherwise, get to the facts of the matter. Sample case types include: White-Collar Crime, Fraud, Embezzlement, IP Theft, Non-Compete, Contract Disputes, Insurance Claims, Employment Relations Matters and more.
As Erie Pennsylvania's leading Electronic Evidence Experts, We Turn Digital Evidence Into IntelligenceTM.
In business since 2004, Vestige is a leading U.S. Electronic Evidence Experts Company. As a result, our clients:
Gain remarkable insight from the digital evidence we unlock from suspect digital devices
Receive unparalleled responsiveness from highly trained certifed digital forensics experts who are available and deliver fast, accurate results
Obtain factual, un-biased and non-advocating evidence that is used to settle cases or are admissable in courts of law
Are presented intelligence about evidence in an easy to understand, non-technical manner
Receive realistic, actionable recommendations on how best to protect their organization in Cybersecurity investigations, both proactive and reactive
Our clients include attorneys (both outside and general counsel), insurance companies, financial professionals (auditors, CPA's, investigators), human resources as well as law enforcement.
Professionals in northwest Pennsylvania counties including: Erie, Crawford, Warren, Mercer, Lawrence, Venango, Forest, Clarion, McKean, Elk, Jefferson, Potter, Cameron and Clearfield County choose Vestige because we know each case is unique and our team of digital forensic analysts provide unparalleled, customized service as a result.
At Vestige we handle each digital forensic case as if is going to court. This eliminates costly back-tracking that other agencies often don't prepare for. While Vestige doesn't sell on price, we do get it right in a timely manner. Because we know digital evidence that is acquired, assessed and prepared properly can help win cases.
As the digital forensic experts of choice, look no further than Vestige for your digital forensic investigations in Erie, Pennsylvania. Call Vestige Digital Investigations local office in Pittsburgh, PA at (412) 315-7277 or CONTACT us via email.