Articles
DVRs – For Best Results Go High Tech with Video Forensic Experts
Video evidence of an incident is invaluable. It seems as though with each turn of the calendar year, surveillance systems are becoming more and more cost-effective. Perhaps as a result, Vestige Video Forensic Analysis Experts have therefore become involved in an increasing number of surveillance system/digital video recorder (DVR) recovery cases. In these matters, Vestige is often asked to perform one or all of the following tasks:
Forensically preserve videos and other data from surveillance systems
Extract videos on the date of an incident from the DVRs
Enhance sections of the extracted videos as needed
Convert videos to other formats that can be easily reviewed and presented
Setting The Tone for Success
DVRs are computers and should be treated as such! After an incident has occurred, the single most important task that should be performed is to preserve the hard-drives of the DVR unit on which the videos are recorded – even if that preservation is nothing more than decommissioning the unit and storing it on a shelf. In a typical corporate or home environment, surveillance systems are ALWAYS recording. That means that the incident, if not properly preserved, WILL be overwritten. And once overwritten, the video is no longer recoverable.
As part of preservation, documentation of the DVR settings is also critical. Knowing what a DVR was instructed to do on the date of the incident can save hours of future costs and ultimately help win the case or avoid litigation altogether. The majority of DVR units today record based on motion detection – did you know that some DVRs can be configured to save recorded data only if a certain percentage of the viewable surface area has motion? (This is done in an effort to reduce false positives, if, for instance, the top right hand corner of Camera 1 always has motion, for instance, activity on a conveyor belt that never stops) Documentation of those settings can help explain why an incident was or was not recorded.
Why use Vestige?
Preservation of evidence may be as simple as taking photographs of DVR settings and setting the unit on a shelf, so what is the advantage of hiring a DVR data recovery expert? There are several advantages to hiring Vestige's video forensic experts:
Vestige Experts do not necessarily need to use the DVR unit itself to export the video files and settings. This allows Vestige to extract data from DVRs that no longer function (such as those which have been damaged in fire or other disasters), as long as their hard drives are functional. If the hard drives are not functional, they still may store the incident in question, and Vestige has the resources to restore the drives to working condition.
Vestige Experts use industry leading, court approved tools for video extraction. Experience has taught us that DVRs can be faulty when performing exports using the units themselves; using third party tools takes that out of the equation. Extracting videos using our tools is also much faster and is a huge advantage in cases where we need to produce data quickly.
a. This process isn't as simple as connecting a DVR hard drive to a computer and using Windows to browse the DVR filesystem. Today's surveillance systems are nearly 100% proprietary, meaning that they use filesystems that Windows is unable to read. Vestige has the tools to read most of those filesystems.
Videos exported using the DVR units may require proprietary software to play that our clients don't always have access to. Vestige is able to obtain that software, or we have also been able to convert the video files to formats using more readily available programs, while still maintaining the integrity of the preserved video in its original, unaltered format.
Once the videos are exported from the units, Vestige can, if requested, perform various enhancements to the video to make the incident easier to view. We can take hours and hours of video and clip out just the incident, perform zooming, color enhancements, even improve the overall picture quality, and then produce the video in a format that is best for our clients to present to the court or upper management.
Vestige Experts have written numerous reports and provided testimony in video surveillance system cases. We possess the experience required to convey key points to our clients and the Court.
Vestige recommends hiring an Electronic Evidence Expert when an incident has occurred and a surveillance system is involved for the reasons stated above. Vestige's involvement early will prove to be invaluable to the investigation, as we ensure the proper steps are taken in the right order to ensure the satisfaction of our clients and the court.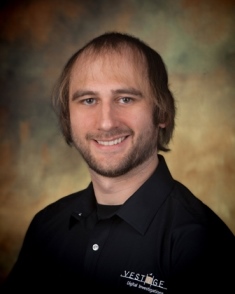 By Gene Snyder, CCE, GCFA, EnCE, ACE,
For more information CONTACT US