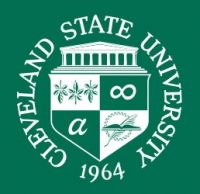 Cleveland State University EMDiS – Entrepreneurial Manufacturer Digitization Support Center of Excellence is hosting a:
CMMC Forum for Small & Mid-Size Manufacturers
Join this panel discussion on Thursday, April 27 from 2-4 pm.
Includes:
The latest updates on the DoD Cybersecurity Maturity Model Certification (CMMC) requirements for both Primes and SubcontrMoactors with federal defense contracts that include CUI or FCI
Your options and how to get started with and complete the CMMC Journey
Both a Prime and a Sub will be on the panel to share their experience with the CMMC process.
MODERATOR:
Jeff Brancato, NE Ohio Cyberconsortium
PANELISTS:
Damon Hacker, President & CEO of Vestige Digital Investigations
Laura Élan, Senior Director of Cybersecurity, MxD (to be finalized)
(TBA)
Refreshments & networking to follow from 4-6 pm.
Complete agenda with guest speakers and registration information coming soon.