ACUA Annual Conference – Association of College & University Auditors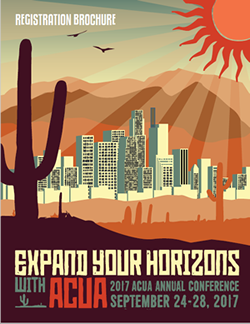 Expand Your Horizons at the 2017 ACUA Annual Conference! Join fellow college and university audit professionals in beautiful Phoenix, AZ, September 24-28, 2017. The Annual Conference, being held at the Hyatt Regency Hotel this year, offers opportunities for attendees to learn innovative ideas, share best practices, and take home new approaches to handle challenges.
On Wednesday, Sept 27 from 1:10 to 2:50 pm (TRACK E) join Vestige's own Damon Hacker, President & CEO, for his riveting presentation,
Using Digital Forensics to Identify & Investigate Fraud to ACUA member attendees.
Don't miss it! There are multiple tracks to choose from, Bonus Sessions, Networking and several Off-Site Evening Events which include incredible mountain top vistas. Register today!
FOR MORE INFO & TO REGISTER: http://www.acua.org/CPE_Events/Annual_Conference.asp