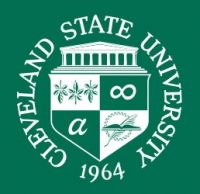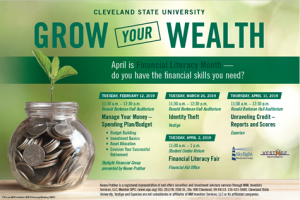 Cleveland State University – Grow Your Wealth Series
Do you have the financial skills you need? Cleveland State University is offering a series on Financial Wellness to its student and faculty, including the Cleveland Marshall College School of Law.
CSU students & faculty are invited to join Cleveland State University, Skylight Financial, Vestige Digital Investigations, and Experian at these educational presentations you won't want to miss…
This financial wellness education series is held on the CSU Ohio campus.
Manage Your Money – Spending Plan/Budget
By Skylight Financial Group
Tuesday, Feb. 12, 2019
11:30 am – 12:30 pm
Ronald Berkman Hall Auditorium
Budget Building
Investment Basics
Asset Allocation
Envision You Successful Retirement
Presented by: Keven Prather
Identity Theft
By Vestige Digital Investigations
Tuesday, March 26, 2019
11:30 am – 12:30 pm
Ronald Berkman Hall Auditorium
Presented by: Greg Kelley, CTO at Vestige
Presentation will discuss current ways by which individuals are having their identities stolen in our digital world. Will also cover topics on how to prevent identity theft as well as what you can do should you become a victim of identity theft.
Financial Literacy Fair
By CSU Financial Aid Office
Tuesday April 2, 2019
11:30 am – 1 pm
Student Center Atrium
Unraveling Credit – Reports & Scores
By Experian
Thursday, April 11, 2019
11:30 am – 12:30 pm
Ronald Berkman Hall Auditoirum