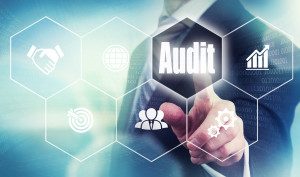 Leading Organizations include I.T. Auditing in their Internal Audit Department Services
I.T. Audit Benefits
• Ensure that Systems optimally support your organization's strategic vision
• Improves your business productivity
• Mitigate Information Technology Risks to the mission-critical data and systems
• Enhances collaboration, automation, and insight into your organization
Every organization needs to balance its users' technology needs – speed, ease of use, and convenience — against the critical need to keep information safe and secure against a variety of sophisticated cyber threats and liabilities, both internal and external. That's why it is crucial for organizations to perform Information Technology (I.T.) Audits.
An I.T. Audit, also called an information systems audit, is an examination of the management controls within an Information Technology (I.T.) infrastructure. The evaluation of obtained evidence determines if the information systems are safeguarding assets, maintaining data integrity, and operating effectively to achieve the organization's goals or objectives. These reviews may be performed in conjunction with a financial statement audit, internal audit, or other form of attestation engagement.
It's common for organizations to have Internal Financial Auditors in place, but often times do not have the requisite expertise on the I.T. Auditing side.
If your organization's Internal Audit Department does not have someone designated as an I.T. Auditor to perform Technical Reviews, you should consider outsourcing to a company that specializes in information technology audit services.
Vestige offers leading Information Technology Auditing Services for Higher Education and leading organizations with the following important qualifications:
Professional Certification – Certified Information Systems Auditors (CISA)
Extensive Knowledge of both organizational Finance and I.T. functions
Comprehensive Understanding of the Audit Process
Perform Expert Testing versus overreliance on interviews and believing what your I.T. department 'thinks' is going on. (Actual vs. Perceived Environment)
Reactive Expertise gives us additional insight into how organizations are being compromised and we integrate this experience back into our audit programs for a proactive process moving forward.
VESTIGE LINKS:
I.T. Auditing in a Higher Education Environment: What are the Challenges?
Remember: Contact Vestige if you:
Do have have an I.T. Auditor,
Have an open position for I.T. Auditing and need to contract temporary Services,
Are interested in supplementing your current I.T. Auditing Services due to a large number of projects,
Or just need objective Consulting
Get Started with Vestige
CONTACT US today to learn how Vestige can partner with your Internal Audit Department to provide focus and expertise on the I.T. risks present within your organization.
We'll begin by asking some easy diagnostic questions about the critical areas of your operations that require immediate attention…and tailor a plan specific to those needs.
CONTACT US