Actual Threat Environment™
Actual Threat Environment™
Proactive CyberSecurity Assessment Readiness
You need only read daily news stories to understand the challenges and threats that data breaches now pose for business.
Once a breach occurs, millions of dollars can easily be lost to fines, penalties, attorney fees, remediation expenses, lost customers and harm to reputation, trust and confidence. It's not just a problem for certain types or sizes of business — today, all industries and all organizational sizes are being affected.
Companies spend significant money on IT solutions establishing a layered set of Internal Controls to manage organizational threats of the business' vulnerability or 'Actual Threat Environment™' (ATE) is broader than these Internal Controls. Unfortunately, because the threat environment is so dynamic, a significant 'gap' between Actual Threat Environment™ and Internal Controls has become the norm for business.
An organization's Actual Threat Environment™ reflects the entire scope of risk and its complexity: business strategies, underlying electronic devices, network configurations, security, policies, persons, companies, relationships, case law, and regulatory environment within which the organization operates.
Together all of these components comprise a modern business/legal/technical/social environment and need to be considered when evaluating risks to an organization's Actual Risk Environment.
An Actual Threat Environment™ may include:
Exposures inherent to using multiple technologies and electronic devices
Unsecure third party applications resident on mobile devices
Use of personal devices in the workplace such as cell phones
Use of mobile monitoring devices within medical and other industries
Virtual work environments and other changing work behaviors and attitudes
Criminal and politically sanctioned data threats
Limitations of regulatory based audits and internal controls to only specific data types
Expanding regulatory enforcement and expansion of the definition of protected data
Evolving third party business relationships and trusted communications channels
Limitations of indemnification provisions within vendor agreements
Expanding case law decisions, especially in the area of privacy without regard to data type
International business behaviors and policy
CONTROLS AND YOUR ACTUAL THREAT ENVIRONMENT™
The Key to Managing the Risk of Data Breach
The only way in which an organization can effectively and competently manage the risk of data breach is to maintain internal controls that match its Actual Threat Environment™. Anything less — including being merely compliant with applicable regulations — invites a false send of security and insures that eventually, the business will need to deal with a data breach.
The latest research by Ponemon Institute, Verizon and other shows that the threats not addressed by typical internal controls are leading causes of data breaches, including contractor negligence, third party mistakes and employee errors.
Within this Actual Threat Environment™, Vestige's holistic approach to data protection addresses all these risk factors and extends the analysis beyond any single department and any single area of focus.
Actual Threat Environment™ Sample graphic (click image below to zoom in)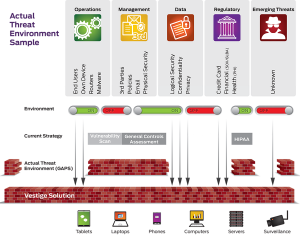 Value Provided by Unique Perspective
For more than a decade Vestige has worked closely with Fortune 1000 companies, major law firms and insurance companies to prevent and remediate data breaches. Our forensic and legally trained experts conduct investigations and forensic analysis, and provide Expert testimony regarding the cause/sources of data breaches. This experience has given us an unique blend of investigatory, IT, networking, law, forensics, and testifying capabilities necessary to provide data breach prevention solutions that provide an organization with meaningful and strategically sophisticated gap analysis between Internal Controls and their Actual Threat Environment™.
The Benefits of Working with Vestige Digital Investigations
Focus on a layered approach to security that address the Actual Threat Environment™
Leverages our Deep Investigative Knowledge gained through our experience in helping organizations recover from 'What's actually happening in the real world'.
Actionable, easy-to-understand, prioritized recommendations to increase the security of your entire IT ecosystem.
UNDERSTANDING AN ORGANIZATION'S TRUE VULNERABILITY
Looking at the Legal, Social and Business Environment
Vestige's Assessments and IT Reviews are based upon the belief that an organization's true vulnerability for data breach is a function of the company's legal, social, and business environment. We determine the scope of an organization's Actual Threat Environment™ by reviewing and understanding the following :
The industry, business strategies and operations structure of the company
The scope of the organization's technical capability
The social/HR/employment environment that supports the organization
And all others risks to data presented by the social, legal and organization's environment
Risk Centric Analysis
Because Vestige's Actual Threat Environment™ analysis is risk-centric and not data-centric, our data breach prevention assessments and review are effective for all types of regulated and non-regulated data including:
Corporate trade secret information
Personally identifiable information
Patents
Personal Health Information
Financial Information
Social Media
Data resident on all sources of corporate owned and relevant personal devices such as cell phones
Data resident on all relevant devices owned by various trusted business partners
The Result
The result is the only complete assessment that identifies an organization's Actual Threat Environment™, compares it to the organization's Internal Controls (including all controls in place to comply with applicable regulations, such as SOX, GLBA, HIPPA, PCI, etc.), and provides a gap analysis needed to effectively understand and manage the risk of data breach within the organization's real world Actual Threat Environment™.
CHOOSE THE SOLUTION THAT BEST MEETS YOUR NEEDS
The Key to Managing the Risk of Data Breach
Vestige Digital Investigations offers clients several data breach prevention services to choose from primarily based upon the level of validation they wish to achieve surrounding their Actual Risk Environment™ and operating Internal Controls.
Contact us to get started today!
You may be interested in other solutions related to Actual Threat Environment™